Nicolas Messyasz

: photojournaliste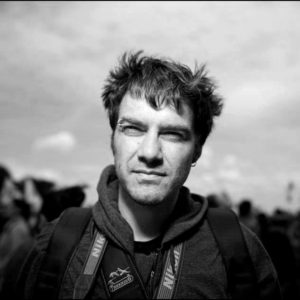 0 616 248 497 france / +33 616 248 497 international
REPORTAGES & ACTUALITES / CORPORATE / PORTRAITS
Né en dans le Nord de la France, bordelais d'adoption, réside et travaille à Paris depuis 2005.
Diplômé de l'Université d'Arts Plastiques de Bordeaux III (DEUG, Licence et Maîtrise: ).
Sujet du mémoire de Maitrise « Le Médium est-il fondateur du statut d'œuvre d'art » (1999). UFR SICA de Bordeaux 3.
Born in northern France, lives and works in Paris since 2005.
Graduated from the University of Fine Arts of Bordeaux III (Masters : thesis topic « The Medium Is the founder of the art work status? »).
Pratique du tirage et de la prise de vue photographique depuis 1990.
Infographiste en images de synthèse pour des jeux vidéos de 1999 à 2003 (Kalisto Entertainment, Oeil pour Oeil, Digital Studio…).
Photographe depuis 2004. Photojournaliste depuis 2010.
3D artist, between 1999 and 2003 (Kalisto Entertainment, Eye for Eye, Digital Studio…).
Independent photographer since 2004 for the press and the edition.
Représenté par les agences de presse :
Sipa Press (2013-auj. / today)
anciennement Abaca Press et Ciric


presse press
Presse: L'ensemble des quotidiens et magazines nationaux.

Quelques exemples de publications presse ici –  Some examples of press publications here
institutions, marchés publics et entreprises
Corporate: EDF, Engie (ex-GDF SUEZ), Rock en Seine, Ministère de la Santé, Warner Music, Ville d'Argenteuil, Ville de Puteaux, Agglomération Argenteuil-Bezons, Financière Lérins, Grand Opéra de Bordeaux, Quadrangle Productions, Les Vieilles Charrues, La Maison des Amériques, Voyage Passion Photo, Collectif 360…