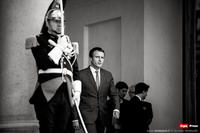 Le President de la Republique Francaise, Emmanuel MACRON, s'est entretenu avec Stefan LOFVEN, Premier ministre du Royaume de Suede, au Palais de l'Elysee, Paris, France, le 31 Juillet 2017.
French President, Emmanuel MACRON, met with Stefan LOFVEN, Prime Minister of the Kingdom of Sweden, at the Palais de l'Elysee, Paris, France, on July 31, 2017.
© Nicolas Messyasz / Sipa Press

Notes personnelles: « One for the money, Two for the show (…) »
Les journalistes s'accordent à dire que si François Hollande attirait la pluie durant son mandat, Emmanuel Macron attire les retards dans ses rendez-vous. Et dans des proportions à faire pâlir la SNCF. Aussi, aujourd'hui, le Premier Ministre Suédois, a été contrait d'attendre, dans sa voiture, à l'extérieur de l'Elysée, devant l'entrée de la cour d'honneur, pendant 33 minutes.